Coming Soon: 4 Products We're Excited about Stocking in 2016
Posted 09/12/2015
We might not have a crystal ball, but we can tell you what's coming in 2016 at Loveless Cook Blinds. We've got a range of exciting new products in our new catalogue – but until it's released, here's a little preview of a few products we'll have in stock in the New Year. These gorgeous new ranges will all be available soon!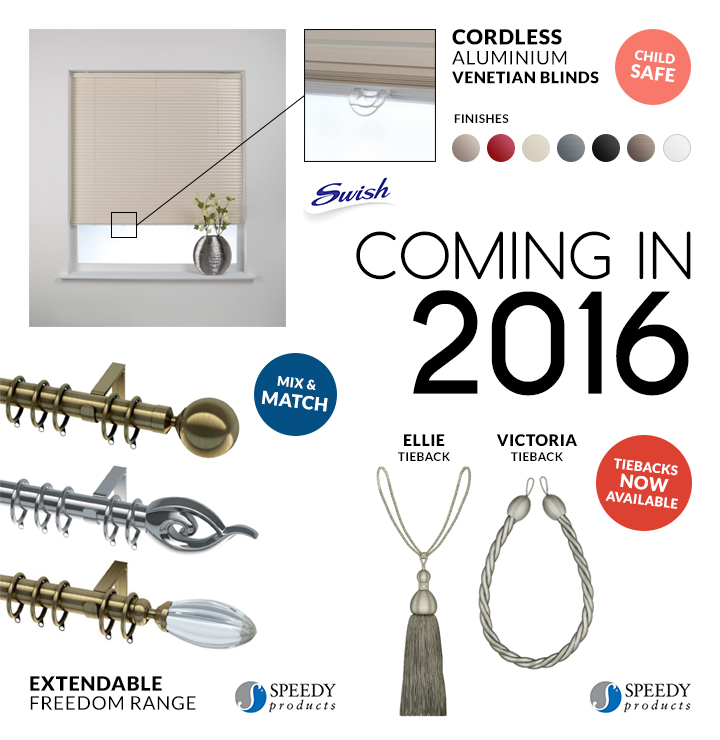 SwishRise Cordless Venetian Blinds
With a revolutionary new cordless system, SwishRise Cordless Venetian Blinds are sleek, easy to use, and child and pet safe. A patented mechanism allows you to raise, lower and tilt the blind simply by moving the bottom bar. Without pull cords and tilt wands, these blinds have an uncluttered, contemporary finish, and are available in seven stylish finishes.
Universal Roller Blinds
Available in five sizes and twelve colours in daylight and blackout, these blinds are incredibly versatile. Easy to cut and fit and at a low price point, the Universal Roller Blinds are definitely one product you'll want to order in large quantities in 2016.
Extendable Freedom Range
These stylish metal curtain poles from Speedy come in 19-22mm. Available in Antique Brass and Chrome, the Extendable Freedom Range comes with three optional finials: Ball, Flame and Reflection, to suit any modern home.
Speedy Tiebacks – Available Now!
Not only are these available now, but they're on offer! These chic tiebacks are available in a range of styles and colours, and are perfect for adding a touch of class to any home. With eight elegant designs available, choose Chloe for a stylish design finished with a wrapped jewelled diamante core, or Olivia for luxury cord and glass beads.